The cover art for Tools to Ready the Journey came easily, but not quickly. Ray and I had discussed several concepts but when they were conceived it was determined that more meaning was needed. Ray was seeking something deeper and for a while I was completely devoid of ideas. Perhaps the Holy Spirit was waiting for openness on my part because several months later, while in prayer, an idea rushed into my mind.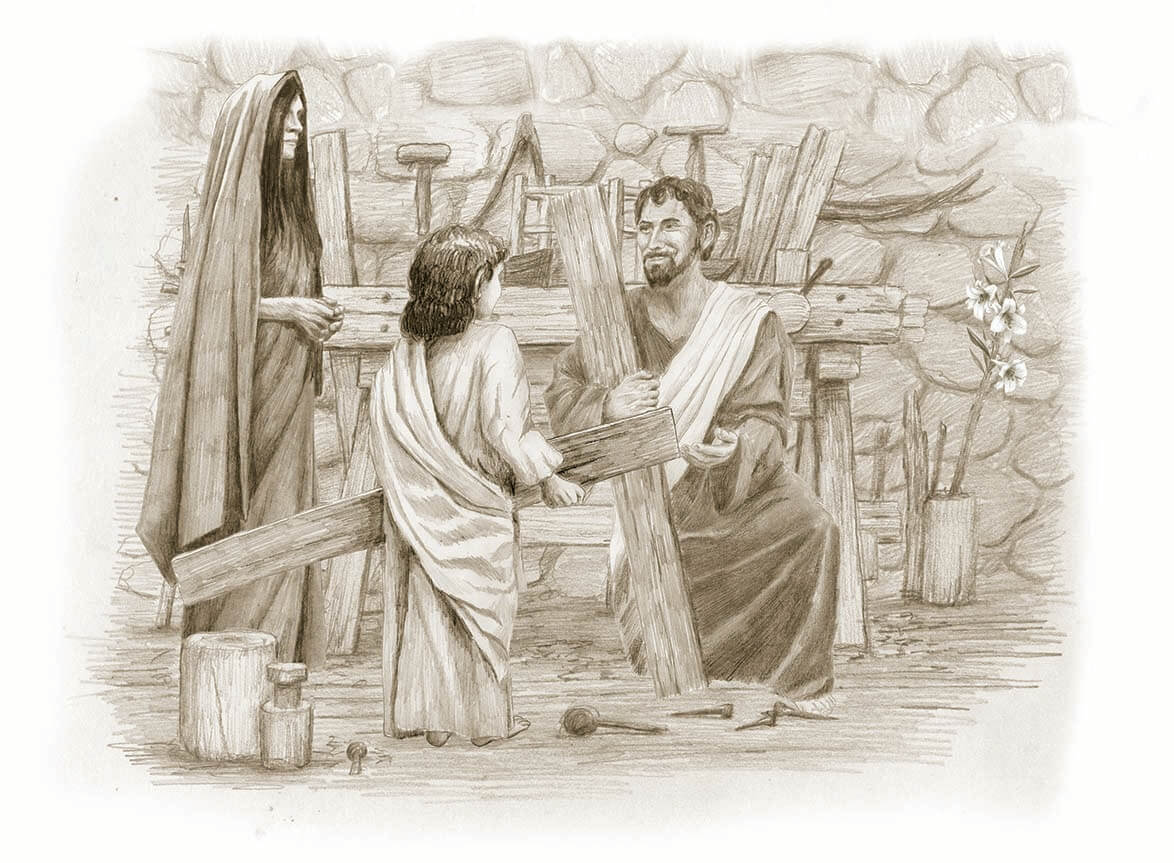 I pictured the Holy Family in the carpenter's shop, with St. Joseph kneeling down and speaking to Our Lord. It then came to mind to have both St. Joseph and Jesus each holding a beam of wood in a perpendicular manner so that they would begin to intersect and form a cross. After that the symbolism continued. St. Joseph kneeling before Jesus showed that even though he was His father, he is showing both humility before our Lord and the gentleness of a good father. The Blessed Mother, who looks down with trust at Joseph's fatherly guidance, is the highest figure in the drawing which emphasizes her Immaculate purity and her place of honor in the family. Since this book is about fatherhood, the only face that is fully visible is St. Joseph's, and Our Lord looks intently at him as if to direct us to him for fatherly example. The beams of wood form a cross, St. Joseph reaches out as if to help the young Jesus carry the heavier part of the cross. Behind them is the carpenter's bench which resembles the sacrificial alter, and on the floor are three nails. All of which share layers of meaning within the sketch to subtly scratch at the viewers awareness of the importance of a fathers place in the faith-filled family…
Jason Tako is a fine artist, illustrator, graphic designer and convert to the Catholic Church. A member of the Oil Painters of America and recipient of multiple national fine art awards, Jason's work specializes in Native American and western landscape themes painted in a realist/impressionist style. His work has been featured in national publications such as Western Art Collector and Plein Air Magazine. Jason is represented by galleries in Pennsylvania, New Jersey and Texas. His work can be seen at www.JasonTako.com. Jason currently lives in Pennsylvania with his wife and their five children.
Jean Schoonover-Egolf, MD
"It was an honor and a pleasure to create the chapter illustrations for Ray Haywood's book Tools for the Journey.  When Ray asked me to create the pencil drawings, he already had a vision of which vintage tools he wanted me to draw for each topic. I eventually came up with the idea to "soften" the backgrounds with draped cloth. But as I continued to work on the scenes, I realized something more was needed. Together we began to envision a progression of scenes which panned out more with each chapter, eventually revealing that the cloth and its valuable contents are actually handed to the reader by Christ Himself. The symbolism aptly conveys Ray's message, that is, Jesus gives us what we need to get the job done. The final illustration bears an empty tool box. Ray has given readers a precious gift, given us his "all," in Tools for the Journey, just as Christ gave us His all on the Cross. It is up to us to use these gifts as we have been taught."
Jean Schoonover-Egolf, MD is a retired physician-turned-author/artist/homeschooling mom. A member of the Catholic Writers' Guild and the creator of the Molly McBride series (Gracewatch Media) of children's books, (www.mollymcbrideandthepurplehabit.com) she works as a volunteer librarian at St. Patrick Church in Columbus, OH. Dr. Egolf has illustrated, designed, and/or served as Art Director for over 50 books. Her artwork can be found in galleries throughout Ohio and Florida.